We are well-renowned manufacturer of a wide range of Cement wall panel plants. We have many kinds of design and shape in it. Easy and fast production makes our customer happy, these products are appreciated by our customers, and we are an internationally recognized company providing solutions for forward-looking construction on the construction site and at the precast concrete plant.cement wall panels are with good waterproof properties and thermal insulation. Cement wall panel plant are lightweight, thin body, high strength, bearing resistance. Our offered cement wall panel are manufactured by using superior quality raw materials and modern expertise by our skilful professionals.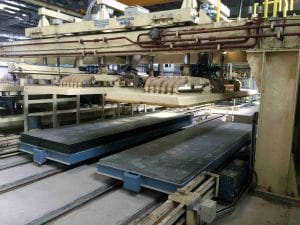 Environmental conditions maybe not easy for the construction industry due to factors such as seismic activity or rainy seasons. Precast elements are manufactured in a factory environment and the negative impacts of climate conditions can be disposed of. The walls are proven to work in countries with the strictest standards and requirements for seismicity, moisture, and fire resistance.
Our expanded manufacturing capabilities offer you additional choices, more flexibility and higher precast performance.  The range encompasses analysis, planning and realization of modern production plants. The company provides advice to precast concrete factories intending to expand their capacities persistently or striving for higher quality in their production or offers advice and support in case of planned investments so as to avoid misdirected investments. The experienced staff's members are specialists in the field of precast concrete production, have long-term, international practical experience and engineering expertise.